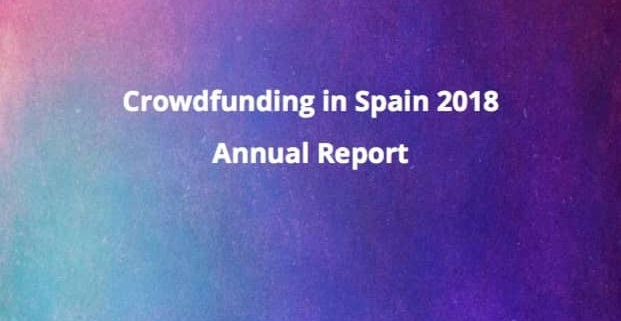 Executive summary
Crowdfunding continues to grow in Spain at a good pace. The total volume has grown from €101,651,284 in 2017 to €159,691,767 in 2018, which represented an increase of 62.12%.
The highest growth this year occurred in the section of lending platforms (43.32%), followed by real estate (20.79%) and equity-based crowdfunding (16.06%).
Lending platforms are those who collect the most funds (€69,182,839), followed by real estate agents (€39,018,875), equity-based crowdfunding (€25,644,370), reward-based crowdfunding (€16,581,702) and donation-based crowdfunding (€9,264,281).
*To be noted: this report distinguishes between general investment (€ 25,644,370) and real estate investment (€ 39,018,875). This explains why in the tables that accompany this report, the loan platforms were the ones that collected the most with an annual growth of 92.62%.
Crowdfunding in Spain
Crowdfunding raised more than €159 million in 2018, an increase of 62.12% compared to the year 2017
For the first time, crowdfunding has surpassed €150 million raised in Spain through the different platforms types that operate in this country. In the last year, the fund raised via crowdfunding has increased by 62.12%, rising from €101,651,284 in 2017 to €159,691,767 in 2018.
If we would account for the secondary market, the figure would be close to €500 million, a very significant and significant figure, not just because it is a very important amount, but also because it is expected that crowdfunding in Spain will continue to have strong growth in coming years.
Platforms by type
Evidence shows a good moment for all types of crowdfunding platform, significantly growing with respect to the previous year 2017. There are significant growths in all cases, especially in real estate, lending and investment.
Real estate crowdfunding has grown 68.56%, exceeds €39 million and represents around 24.43% of the total collection in Spain in 2018. It is closely followed by lending, which is the most raised (€69,182,539) with 92.62%.
Almost 50% of the money raised was crowdlending
43,3% of the funds raised in 2018 came from lending platforms. Consumers and businesses, public and private organizations have been increasingly interested in encouraging the access to lending crowdfunding, which has facilitated its significant growth. With more than 150 million raised in 2018, crowdlending alone brought in as much as investment and real state crowdfunding modalities together.
Investment platforms, which until now were next to lending as the most used type of financing and the one that grew the most year after year, have given way to real estate as the second most used platforms and the one that grows faster. This empirical evidence highlights the consolidation and growing professionalism of the crowdfunding sector in Spain.
Leading platforms
After six years of growth and consolidation of crowdfunding in Spain, some platforms already show an incontestable leadership in their respective sectors.
So Crowdcube, Socios&Inversores, and The Crowd Angel are already leaders in investment crowdfunding, while Housers and ICrowdhouse are leaders in real estate. In the loan, both MytripleA, and Lendix are leaders with Grow_ly, which occupies the third position with some more than interesting figures. Kickstarter, Verkami, and Indiegogo in rewards and Teaming, Gofundme and MigranodeArena in Donation continue to maintain leadership in these fields.
Out of all of them, Housers stands out, which was able to raise about 21.4% of the total fund raised via crowdfunding in Spain. In addition, two other lending platforms exceed 20 million raised. These three platforms together collect 52.4% of the total fund raised by crowdfunding platforms in Spain.
Conclusion
2019 is expected to be a great year for crowdfunding that is expected to exceed 200 million euros, according to the growth patterns observed over the last five years.
The steady internationalisation of crowdfunding practices can generate tax problems linked to differences in taxes and tax regimes, as well as problems of transparency in investment. That is why it would be very interesting to address these issues at the European level and discuss the feasibility of a European Crowdfunding Area that addresses all these issues. At present, there is no European legislation. The European Commission has decided, for the time being and under various national legislations, not to legislate the crowdfunding of loans and investment at the European level.
Crowdfunding is an engine of economic and social development. Half the revenues from crowdfunding in Spain were earmarked for financing local businesses in 2016. The business sector is aware of the potential and advantages of this form of financing.
Spanish crowdfunding is becoming increasingly attractive internationally. Leading platforms in other markets, such as Kickstarter or Crowdcube, have already expressed their desire to participate in Spanish crowdfunding, and some of them already have delegations in Spain.
https://www.crowdfundinghub.eu/wp-content/uploads/2020/03/report-spain-2018-min.jpg
877
621
Yunuo Zhao
https://www.crowdfundinghub.eu/wp-content/uploads/2020/02/Crowdfunding-Hub-Logo2.png
Yunuo Zhao
2018-03-12 13:23:38
2020-03-24 09:57:21
Spain | Crowdfunding Annual Report 2018