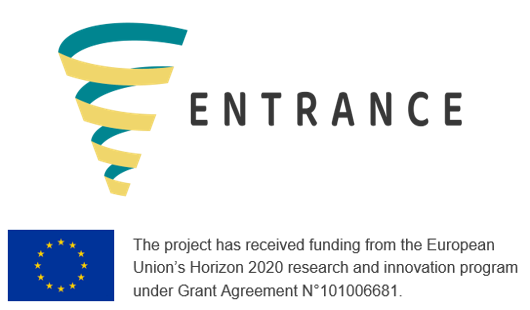 ENTRANCE | Webinar: The funding for the Innovation Champions in Transport, Logistics & Mobility
What is the ENTRANCE project?
Climate change and the resulting European climate protection measures are leading to major challenges in all areas of transport and mobility. ENTRANCE offers a legitimate European matchmaking platform and complementary off-line services designed to mobilise financial resources to accelerate the market access and scale up of "first of a kind" sustainable and zero emission transport solutions, thereby reducing the European CO2 emissions and pollutants caused by the transport and mobility sector.
The ENTRANCE project is designed to mobilise financial resources and boost sustainable innovations in the transport and mobility sectors. To do so, the partnership will create an environment for promoting solutions to find buyers or investors. These solutions will gain visibility through the ENTRANCE Matchmaking Platform, that counts also with a Knowledge Hub to learn more about sector trends and financing insights.
Webinar with European Innovation Council and SME´s Excecutive Agency (EISMEA) on EIC Accelerator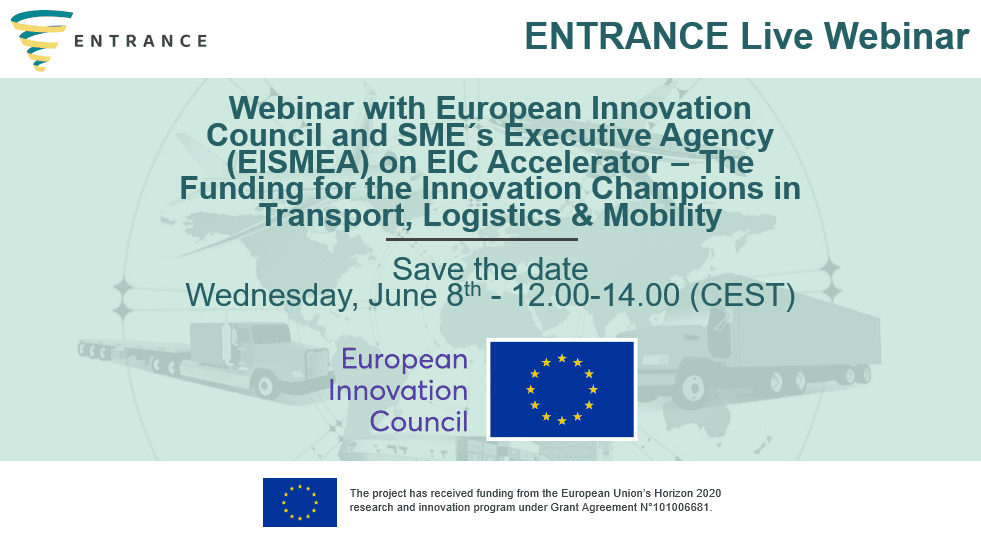 Hosted by ENTRANCE, the webinar will help entrepreneurs and investors discover substantial financial support for sustainable transport and mobility solutions. Investors will also learn about how the EIC Accelerator provides blended finance for the Innovation Champions in Transport, Logistics & Mobility (Innovation and Market Deployment Action), which consists of:
An investment component usually in the form of direct equity or quasi-equity such as convertible loans;
A grant component to reimburse eligible costs incurred for innovation activities, including demonstration of the technology in the relevant environment, prototyping and system level demonstration, R&D and testing required to meet regulatory and standardisation requirements, intellectual property management, and marketing approval (e.g. at least TRL 5/6 to 8)
Main speakers, including Elitsa Bayska from EISMEA and Ignacio Hernández from ITAINNOVA (Instituto Tecnológico de Aragón), will explain how funding and investments through the EIC Fund helps to develop and scale up game changing innovations.
The webinar will take place on the 8th of June 2022 from 12.00 to 14.00 (CEST).
Agenda
Welcome and brief introduction on ENTRANCE
Introduction on the EIC Accelerator Programme
Examples of previous projects funded in the transport, logistics and mobility sector
Tricks and advice on how to apply for the EIC Accelerator Programme
EIC business coaching services
National support for the EIC Accelerator Programme
Round up and indication on how to sign up for the ENTRANCE online platform.
What is CrowdfundingHub's role as a strategic partner of ENTRANCE?
CrowdfundingHub want to provide innovators with better access to finance and provide alternative finance solutions to entrepreneurs in need. Alternative financing method is a great opportunity for the acceleration of sustainable mobility solutions, however, the numerous financing options out there are making it harder for businesses and entrepreneurs to find a solution that is optimal for them.
Therefore, CrowdfundingHub provides individual and personalised innovation finance services, which will lower the barriers and render finance more accessible for SMEs and entrepreneurs. By contributing our knowledge and network to the ENTRANCE project, CrowdfundingHub helps investors and entrepreneurs in the sector of transport and mobility. We are striving to contribute to the number one place for anyone interested in investing in sustainable transportation solutions.
SAVE THE DATE! Registration is open now HERE.
https://www.crowdfundinghub.eu/wp-content/uploads/2021/03/entrance.png
310
530
Yunuo Zhao
https://www.crowdfundinghub.eu/wp-content/uploads/2020/02/Crowdfunding-Hub-Logo2.png
Yunuo Zhao
2022-05-19 20:46:16
2022-05-19 20:46:16
ENTRANCE | Webinar: The funding for the Innovation Champions in Transport, Logistics & Mobility