Crowdfunding and Alternative Finance in France
In France, crowdfunding continues its exponential growth in 2021.
An increase of 84% in terms of collected funds (€1,880 million collected) shows that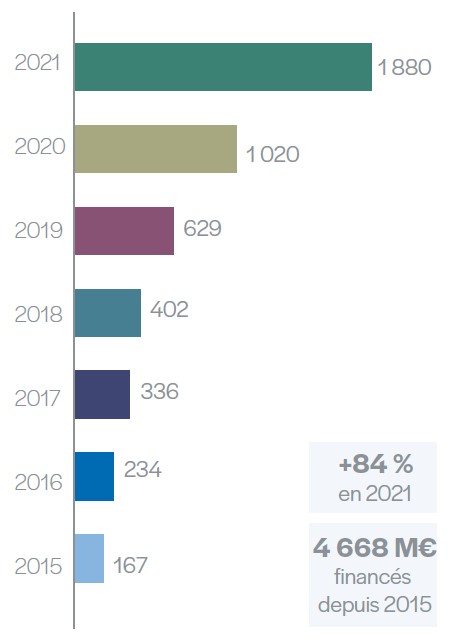 crowdfunding is becoming an increasingly common savings solution for the French. This also shows that the projects having requested a financing solution through crowdfunding were numerous enough to absorb this collection. As compared to 2015, the figures of collected funds have been multiplied by 11.2, the French market has experienced an extraordinary growth.
This growth can be explained by:
Crowdfunding's credibility in the economy's financing circuits;
A real match between project holders' requests and savers' expectations;
The diversification of fundraising mechanisms (private placements, investment funds, etc.) resulting from the hybridization between crowdfunding and asset management;
The weight of real estate, which continues to grow: this year, it represents 61% of overall fundraising, and is alone well over the €1 billion mark.
In total, the 67 crowdfunding platforms that responded to the survey* helped finance 168,712 projects in 2021.
*survey conducted by Mazars and Financement Participatif France.
Collected Funds by Type
Donation-based Crowdfunding
If 2020 was a record year for donation-based crowdfunding (€218.5 million) with a strong mobilization of citizens in favor of humanitarian and solidarity projects, 2021 remains a great year with a collection of €196.8 million for 165,555 projects. The cultural sector accounts for more than 50% of the funds raised (in particular the plastic arts and live performances for €60.4 million), followed by the social sector for 25.8% of the funds raised (of which humanitarian and solidarity projects account for €32 million), and then the economic sector for 20.4% of the volumes.
Donation-based crowdfunding is very popular amount the French: 4 million of French donators contributed to a project in 2021.
Lending-based Crowdfunding
With €1.58 billion collected in 2021, as compared to €741 million in 2020, lending-based crowdfunding is exploding in France. Lending-based crowdfunding mainly concerns the economic sector (€1,570.6 million), particularly the real estate sector (€1,146.5 million), followed by the environment and renewable energies (€188.5 million) and businesses and services (€157.1 million).
Interest-bearing loans are being deployed, with €260 million collected last year. It enables the financing of very small businesses, SMEs and intermediate-sized enterprises, with an average amount borrowed of €175,435. Two platforms distributed State-guaranteed Loans  in 2021, for a total of €7.3 million and an average amount of €83,328.
As for bonds, they have continued their very strong growth since 2015, with €1,296.5 million raised in 2021. This evolution is explained in particular by the financing of increasingly important projects: in 2021, the average amount of a collection is €1,086,379 compared to €403,466 in 2020; similarly, the invested tickets are growing (€18,730 compared to €12,608 in 2020).
Investment-base Crowdfunding
With €103.5 million raised in capital or royalties, investment-based crowdfunding has grown by almost 75% compared to the year 2020. The environment and renewable energies sector continues to take a great share of fundraising with €50.9 million (+187%), followed – for the first time – by the technology and digital sector with €28.5 million raised.
Crowdfunding and Sustainable Financing
Last year, more than 76,000 projects financed by French crowdfunding industry have a social or environmental dimension, which represents a collection volume of €440 million, i.e. 23.4% of the total volume collected in 2021 and 45.6% of the projects financed in the past year. These high figures are not surprising, however. These projects are mostly related to the financing granted by green energy infrastructure platforms as well as all donations, which most often have a social objective. The Environmental, Social and Governance (ESG) dimension is natively in the DNA of crowdfunding.
Crowdfunding Tendency in France 2022
The Mazars & FPF report has predicted three tendencies for the French crowdfunding industry.
Continued increase in collections across all transactional models (donation-, lending-, and investment-based crowdfunding) and sectors (real estate, renewable energy, social and solidarity economy, etc.).
Strengthening of the ESG dimension and development of the "impact" dimension.
Most importantly, further structuring of the sector with the entry into force of European regulation 2020/1503. This regulation will focus on strengthening the governance of platforms, internal control systems, better protection of investors and their proper information.
Download the Mazars & FPF report on France Crowdfunding HERE
https://www.crowdfundinghub.eu/wp-content/uploads/2022/02/220215.jpg
502
1236
Yunuo Zhao
https://www.crowdfundinghub.eu/wp-content/uploads/2020/02/Crowdfunding-Hub-Logo2.png
Yunuo Zhao
2022-02-16 20:03:22
2022-02-16 20:17:54
France | Current State of Crowdfunding 2022