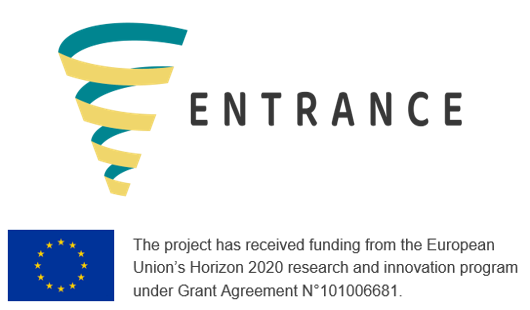 Launch of ENTRANCE: Accelerating the market access and scale up of "first of a kind" zero emissions sustainable transport solutions
How can Europe boost the uptake and upscaling of innovative transport and mobility solutions? On January 14th, 15 organisations from 7 different European countries, coordinated by PNO Consultants, met during an online Kick-Off-Meeting of the ENTRANCE project, which started its work on 1st January 2021.
ENTRANCE's Goal
The goal is to create a European matchmaking platform for innovative transport and mobility tools and services. ENTRANCE project is funded with a grant amount of 1.5 million euro by the European Union's Horizon 2020 research and innovation program. The consortium will work together for 3 years to create the matchmaking platform aimed at propelling Europe's innovative transport and mobility solutions forward.
About ENTRANCE
Climate change and the resulting European climate protection measures are leading to major challenges in all areas of transport and mobility. ENTRANCE offers a legitimate European matchmaking platform and complementary off-line services designed to mobilise financial resources to accelerate the market access and scale up of "first of a kind" sustainable and zero emission transport solutions, thereby reducing the European CO2 emissions and pollutants caused by the transport and mobility sector.
How can ENTRANCE help investors?
The overall concept focus of the ENTRANCE project lies in the "supply-demand-finance" triangle that is envisaged for all transport and mobility modes and that aims at facilitating matchmaking between the providers of innovative technologies, products and services, buyers and investors. Through the ENTRANCE Matchmaking accelerator funnel workflow, first-of-a-kind zero, or near-to-zero, emission transport solutions will be identified, attracted and matched with potential buyers, and financing opportunities and knowledge on good practices on the deployment of innovative solutions, as well as European and national tenders and legislation will be exchanged through the online platform.
Brokerage activities will be executed to increase the maturity of the ENTRANCE community and bridge the gap between innovative solutions and the market. In addition, to de-risk the uptake of innovative solutions, ENTRANCE will facilitate purchase aggregation through matchmaking activities and by setting up a neutral trustee for the orchestration of purchase aggregations. Access to finance will be supported through an online funding program database and individual and personalised innovation finance advice and support will be offered.
The funding advice will combine public funding, private investment opportunities, and the best mix of alternative finance models for solution providers. Finally, ENTRANCE will facilitate cross-fertilisation and clustering activities with European transport and mobility associations and initiatives to support critical mass and achieve a coordinated European effort to boost the uptake and up-scaling of innovative transport and mobility solutions.
Everybody is welcome to join ENTRANCE and help contribute to the ambitious goals envisaged by the European Commission for reducing the transport CO2 emissions by 2030 and 2050 and respond to the increasing mobility needs of people and goods thereby strengthening the European competitiveness and boosting growth and jobs.
What role does CrowdfundingHub play as a main partner of ENTRANCE?
We want to provide innovators with better access to finance. Today, there are many alternative finance solutions out there. This is a great opportunity for the acceleration of sustainable mobility solutions. Yet paradoxically, the numerous financing options out there are making it harder for businesses and entrepreneurs to find a solution that is optimal for them. Therefore we will  provide individual and personalised innovation finance services. This will lower the barriers and increase access to finance for solution providers and buyers.
What challenge(s) will investors face when they participate in Entrance?

The ENTRANCE platform is becoming a unique marketplace where innovators and investors alike can meet. The number one challenge is also the number one opportunity. In this project investors will get the chance to access innovative solutions and the organisations behind it across the entire transportation sector. This could create unique synergies that can propel sustainable transportation forward while paying off for the investors. On top of that it will be a chance for matching different investors to create impactful co-investments.
How can CrowdfundingHub help investors with the challenge(s) mentioned above?
By contributing our knowledge and network to this ENTRANCE marketplace. This will make it easy for investors to learn about new innovations, but also about other investors and public funding opportunities. We are striving to contribute to the number one place for anyone interested in investing in sustainable transportation solutions: the ENTRANCE platform.
https://www.crowdfundinghub.eu/wp-content/uploads/2021/03/entrance.png
310
530
Yunuo Zhao
https://www.crowdfundinghub.eu/wp-content/uploads/2020/02/Crowdfunding-Hub-Logo2.png
Yunuo Zhao
2021-01-01 21:02:20
2022-05-19 20:45:56
Launch of ENTRANCE | Boosting Sustainable Transport Solutions in Europe