Today's expert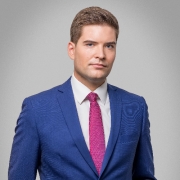 Vytautas Šenavičius
Vytautas is an experienced attorney-at-law with a successful record of working in the legal services industry and regulatoryaffairs. Skilled in Banking and finance, Alternative finance, Dispute Resolution, Blockchain and Agribusiness andawarded by legal directories LEGAL 500, Chambers & Partners, IFLR 1000. He is now member of Board at Lithuanian P2P Lending and Crowdfunding Association, he is also the managing partner of Response Legal.
LinkedIn: https://www.linkedin.com/in/vanja-rangus-113b2611/
An estimation on market volume in Lithuania?
In 2019, Lithuanian alternative finance market volume has reached €300 million.
Which online AltFin models are frequently used?
The frequent online AltFin models are:
P2P Consumer Lending
P2P Business Lending
P2P Property Lending
Invoice Trading
Debt-based Crowdfunding
Real estate Crowdfunding
What are the leading platforms?
Here I listed 4 leading platforms in Lithuania:
Can you list some successfully financed projects?
There are a number of projects as regards to lending, including P2P consumer lending, P2P business lending and P2P property lending.
What are the leading Crowdfunding / FinTech associations?
Lithuanian P2P and Crowdfunding Association is leading in alternative finance field. It is the only Association which is really active in this field.
Are there any governmental programs / projects promoting Alternative Finance and Crowdfunding?
Two examples:
Startup Visa: Startup Visa helps small FinTech companies & associations to grow and receive tax benefits.
INVEGA (state guarantees): It supports crowdfunding and factoring.
Are there any research centres and/or projects collecting data on AltFin?
As mentioned before, Lithuanian P2P and Crowdfunding Association is leading in alternative finance field in our country.
Are there any tax incentives for AltFin investors?
One tax incentive in Lithuania is that investors do not need to pay revenue tax up to 500 EUR of yearly profit by AltFin.
How is the AltFin industry regulated? Are there any regulations & legislations?
There is specific regulation for Crowdfunding and P2P (consumer lending). Crowdfunding Law is 90 percent aligned with upcoming European Crowdfunding Regulation.
Please give some forecasts of Alternative Finance in the next 5 years
I expect an approximate growth of 30-50% annually. The number of platforms for crowdfunding will raise 30-50% per year, due to flexible regulations and experience. Default rate depends upon economy.
https://www.crowdfundinghub.eu/wp-content/uploads/2020/03/Lithuania-Maksim-Shutov-min-1.jpg
700
1050
Yunuo Zhao
https://www.crowdfundinghub.eu/wp-content/uploads/2020/02/Crowdfunding-Hub-Logo2.png
Yunuo Zhao
2020-02-18 11:28:06
2020-03-24 09:54:42
Lithuania | Current State of Alternative Finance 2020