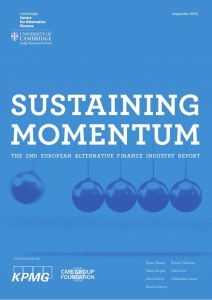 The European online alternative finance market grew 92% to €5.4 billion in 2015, according to the second annual survey by the Cambridge Centre for Alternative Finance, CrowdfundingHub was exclusive Benelux partner.
Sustaining Momentum
The report released today, entitled "Sustaining Momentum", had the support of 17 major European industry associations and research partners, and was based on data from 367 crowdfunding, peer-to-peer lending and other alternative finance intermediaries from 32 European countries – capturing an estimated 90 per cent of the visible market (for more details on Alternative Finance in Europe, check our report "Current State of Crowdfunding in Europe", with the Alternative Finance Maturity Index).
UK, France, Germany and The Netherlands largest markets
The United Kingdom was by far the largest in Europe at €4.4 billion, followed by France at €319 million, Germany at €249 million and the Netherlands, €111 million. Other large European markets include Finland with €64 million, Spain at €50 million, Belgium at €37 million and Italy at €32 million. The Nordic countries collectively accounted for €104 million, while Central and Eastern European countries registered a total of €89 million.
Excluding the UK, the European alternative finance market grew by 72 per cent from €594 million in 2014 to €1.019 billion in 2015.
Peer-to-peer consumer lending largest
Peer-to-peer consumer lending is the largest market segment of alternative finance, with €366 million in Europe in 2015. Peer-to-peer business lending is the second largest segment with €212 million, with equity-based crowdfunding in third with €159 million and reward-based crowdfunding fourth at €139 million.
Peer-to-peer business lending biggest in The Netherlands
Online alternative business funding increased by 167 per cent year-on-year to €536 million raised for over 9,400 start-ups and SMEs across Europe. In 2013 € 117 million was raised by businesses. This increased  to € 201 million in 2014 (+72% growth) and to € 536 million in 2015 (+167%).
The Netherlands are (after UK) the largest market for peer-to-peer business lending (74 million in 2015, a growth of 34%).
Other findings:
Estonia ranked first in Europe in alternative finance volume per capita at €24, followed by Finland at €12 and Monaco at €10 outside of the UK.
Institutionalisation took off in mainland Europe in 2015, with 26 per cent of peer-to-peer consumer lending and 24 per cent of peer-to-peer business lending funded by institutions such as pension funds, mutual funds, asset management firms and banks.
Across Europe, perceptions of existing national regulations in alternative finance are divided. About 38 per cent of surveyed platforms felt their national regulations for crowdfunding and peer-to-peer lending were adequate and appropriate, 28 per cent perceived their national regulations to be excessive, and a further 10 per cent said current regulations were too relaxed.
The biggest risks perceived by the alternative finance industry are increasing loan defaults or business failure rates, fraudulent activities or the collapse of platforms due to malpractice.
Alternative Finance Maturity Index 2016
More in-depth information on Alternative Finance in Europe can be found in "Current State of Crowdfunding in Europe", with the Alternative Finance Maturity Index 2016.
Read the full article on linkedIn.
The full report can be downloaded from here.
https://www.crowdfundinghub.eu/wp-content/uploads/2020/03/sustaining-monumentums-min.jpg
1087
768
Yunuo Zhao
https://www.crowdfundinghub.eu/wp-content/uploads/2020/02/Crowdfunding-Hub-Logo2.png
Yunuo Zhao
2016-09-10 13:20:54
2020-03-24 09:57:55
Sustaining Momentum: The 2nd European Alternative Finance Industry Report